Kroksjöns Fiskecamp

Tranemo
Fish in some of Sweden's best fishing waters
You'll find Kroksjöns Fiskecamp in the southern corner of Västergötland, by Kroksjön in Tranemo. Enjoy some meditative fishing in one of the camp's two lakes - some of the best fishing waters in Sweden. Have a break and a cup of coffee in Kaffestugan or try the boule pitch; the fish will still be there tomorrow.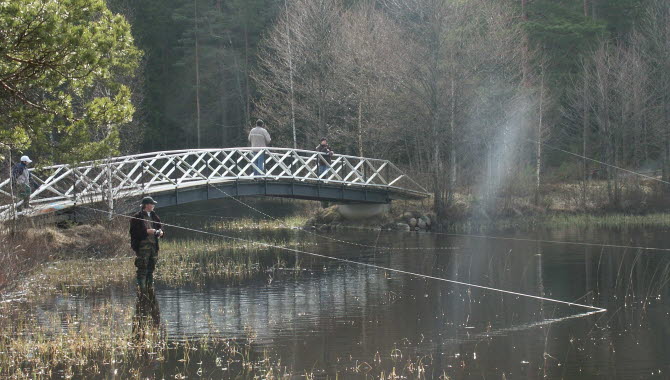 Eat and stay by the lake
In addition to the excellent fishing, Kroksjöns Fiskecamp has accommodation in cottages, camping and motorhome spaces, sheltered BBQs and a coffee shop. The cottages are beautifully situated on a wooded hillside and from the small decks you can look out over the nearer of the two lakes. Depending on which of the lakes you choose to fish in, you could catch rainbow trout, salmon trout, pike, perch or tench, among others.
A break from fishing
When you've done your fishing for the day, enjoy the beautiful scenery on foot on one of the trails which passes next to the camp, or check out other nearby attractions such as Torpa Stenhus or Glasets Hus in Limmared.
InfoPoint
Would you like more ideas about what you can find nearby? Kroksjöns Fiskecamp is a certified InfoPoint where you can pick up brochures and maps and knowledgeable staff can help with your questions about the area.