Hofsnäs Herrgård

Länghem
Culinary journey in manor house environment
Embark on a culinary journey through Sjuhärad's estates and countryside. Enjoy a gastronomic experience created together with local, small-scale producers. The manor house restaurant is certified as organic and approved by A Taste of West Sweden and Visita. You can also stay close to the lake in the Torpanäset nature reserve.
Café and Bistro
The Café and Bistro at Hofsnäs Herrgård offers a wide range of home-made delicacies and dishes based on the season and local produce. The restaurant is certified by A Taste of West Sweden. This certification is for restaurants, producers and farm shops which offer sustainable, genuine west Swedish products and dining, all based on local, seasonal produce.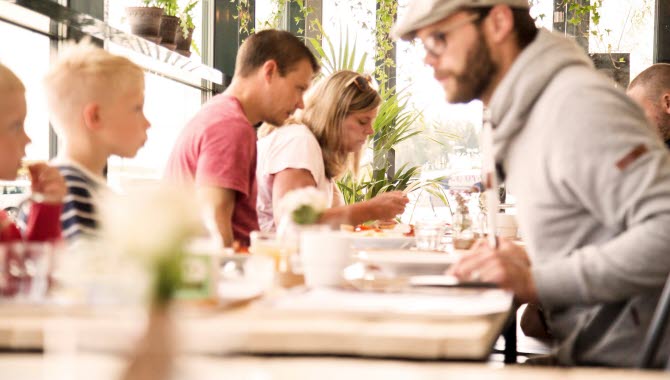 Photographer: Eva Henriks
Farm shop with locally produced goods
Be sure to buy something to take home from the certified farm shop, Lilla Saluhallen, which is housed on the old granary. Here you will find delicious and locally produced products from, among others, Sivans Cheesemongers, Gäsene Dairy, Kullans Lamb and Ådelsåsen Turkey and Game.
Parties and weddings
A wedding reception at Hofsnäs Herrgård is an experience you will never forget, with beautiful scenery and a historic setting. Leave all the details to the team at Hofsnäs Herrgård, who will arrange your entire wedding reception so that you can enjoy time with each other and your guests.
Hofsnäs little lake cottage
Right next to the water in the middle of the Torpanäset nature reserve, Hofsnäs Herrgård has comfortable accommodation with access to a hot tub and sauna. Go walking or cycling on the paths nearby, they are literally on your doorstep. Take a dip in the lake, rent a boat or go fishing.
InfoPoint
Would you like more ideas about what you can find nearby? Hofsnäs is a certified InfoPoint where you can pick up brochures and maps and knowledgeable staff can help with your questions about the area.