Welcome to Trollhättan and Vänersborg
What is Trollhättan and Vänersborg famous for and why should you visit these two cities? We, the staff at the tourist information center will give you the answers in this following text. There is a lot to see and do here and we want you to have a fun experience visiting our cities.
Destination Trollhättan and Vänersborg
What is Trollhättan and Vänersborg?
Trollhättan and Vänersborg are two adjacent cities that are located in the western part of Sweden. Here, by the southwestern tip of Lake Vänern, along the banks of the Göta River and close to the table mountains of Halleberg and Hunneberg, you will find two cities that offers their guests a wide range of exciting experiences for the whole family.
Thanks to the proximity between the cities you can easily experience the whole destination whether you stay in Trollhättan, Vänersborg or just outside of the cities.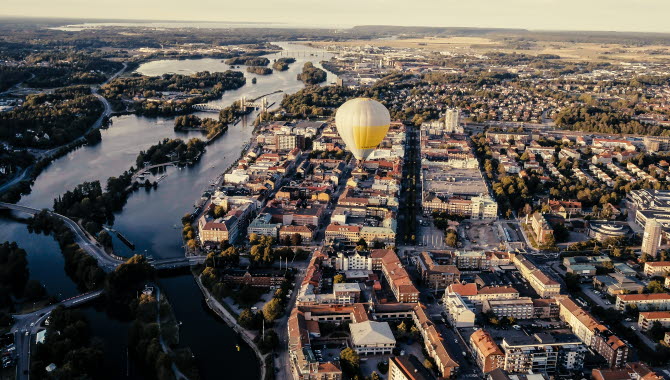 The city of Trollhättan
Trollhättan is known as the innovative city located along the banks of the Göta River that offers both nature experiences and rich industrial history. The city was founded close by the Trollhättan Waterfalls that through the city's history became an important place for industry. Here you can still today watch as 300,000 liters of water per second flow into the Waterfalls at specific times in summer (2021: Due to the current restrictions due to the Corona virus outbreak, the release of water in the falls are cancelled until further notice).
Not far from the city center you can also visit the Trollhättan Locks area where cargo ships travel up and down the 32 meter height difference in the locks. For the children, Trollhättan is known as the Playground City with no less than four large themed playgrounds. You also have the Innovatum area with Innovatum Science Center where children can play and next door you have the Saab Car Museum, displaying Trollhättan's rich car history.
This and much more you can discover when you visit Trollhättan. Read more about Trollhättan here.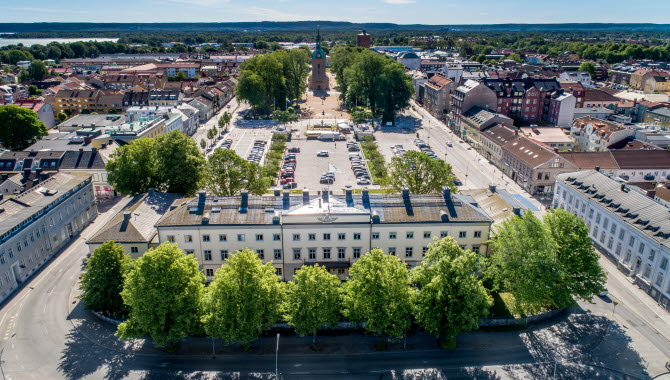 The city of Vänersborg
Vänersborg is beautifully located at the southwestern tip of Lake Vänern, the largest lake in Sweden. The city still has both the charm of a small town but also a rich range of attractions and activities to offer guests. Here you can walk or bike along the shores of Lake Vänern, take a dip at one of the many sandy beaches located close to the city or try your fishing luck in the lake, you don't need to buy a fishing permit here. If you prefer to stay indoors you can walk inside a miniature British Museum at Vänersborg Museum, here items from the whole world are displayed.
Close by Vänersborg you also have the Ecopark Halle- and Hunneberg, two table mountains that are home of the moose. Here is a wide range of hiking and mountain bike trails and on Hunneberg you can visit The Royal Hunt Museum Elk Hill that shows you more of the flora, fauna and history of the mountains. It is also possible to rent mountain bikes and canoes at the museum.
This and much more you can discover when you visit Vänersborg. Read more about Vänersborg here.
What you must see while visiting the area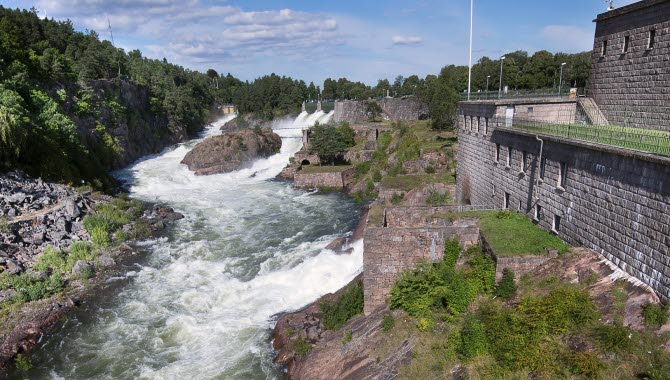 The Waterfall- and Locks area in Trollhättan
Welcome to an exciting area where ancient forces of nature meet Swedish industrial history to create an unique experience for guests. In this area you will find the Trollhättan Waterfalls, which open at specific times during summer, and watch as 300,000 liters of water per second fill the otherwise empty riverbed. In the area is also the beautiful nature reserve Älvrummet, Sweden's oldest hydropower plant that is still in use and much more.
Further down along the Göta River, you will also find Trollhättan's lock area and the locks that ships travel up or down on their journey towards Lake Vänern in the north or to Gothenburg and the North Sea to the south. Discover the three lock systems, the first one built in 1800 to the one in use today that was finished in 1916. In the area there is also a popular café and museum that are open during the summer.
Close by both the waterfall- and the locks area is the Innovatum area, and place with a rich history where old meets new. Play and experiment at Innovatum Science Center, see local and international art at Trollhättan's art gallery or experience the city's unique car history at Saab Car Museum.
Read more about the Waterfall- and locks area in Trollhättan here.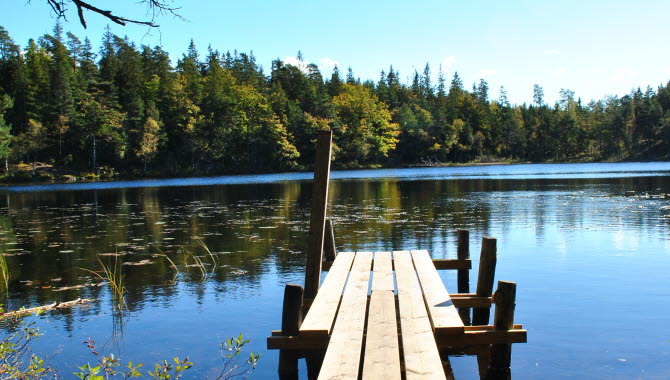 Photographer: Mattias Westerdahl
Ecopark Halle- and Hunneberg
A must for anyone looking for magnificent nature experiences. The Ecopark Halle- and Hunneberg consists of the table mountains Halleberg and Hunneberg and its preserved nature is home to many plants and animals, the largest of them all being the moose. On the mountains there are also several beautiful hiking trails, mountain bike trails and at the small lakes you can try your fishing luck or just sit down for a while with a cup of coffee.
On Hunneberg mountain you will find Bergagården area, a gathering place for those visiting the mountain, here is the Royal Hunt Museum Elk Hill, an exciting experience center for the whole family. Here you get to learn more about the mountains history, nature, geology and of course learn more about the annual royal moose hunt. Bergagården is also an excellent starting point if you want to discover Hunneberg for yourself with several hiking trails that start from here and at the museum you can rent mountain bikes and canoes.
For those of you who want to know even more about the animals and the mountains, the museum offers safari tours during the summer months. Joint an exciting moose safari by bus and look for the moose in their natural habitat together with a guide. Included in the tour is a visit to the museum and a sandwich to enjoy before the tour starts. If you are more interested in beavers there are also beaver safari tours with canoes that start from the museum. Together with a guide you look for beavers in the Eldmörjan lake on Hunneberg while you learn more about the beaver's life on the mountain from the guide. All safari tours must be booked in advance.
Read more about Ecopark Halle- and Hunneberg here.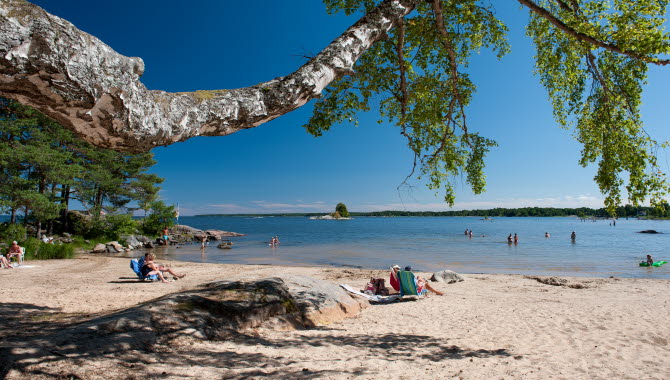 Lake Vänern and Vänersborg
Experience Sweden's largest lake, Lake Vänern, from Vänersborg. In Vänersborg there is just over 100 kilometers of shoreline with several sandy beaches, places for fishing without the need for a fishing permit and plenty of hiking and biking trails. Enjoy the view of the endless waters of Lake Vänern from Skräckle Park, a popular park close to the city center of Vänersborg, here is also a summer open café where you can enjoy good food together with the view.
If you want to try your luck at fishing, Lake Vänern is an excellent place to try without spending money on a fishing permit, but there is of course fishing rules you must follow. Here 38 different fish species swim in the water. If you would rather go for a swim then there are four popular beaches near Vänersborg, all have shallow waters and are child friendly.
Also let Vänersborgbe your first stop during this year's golf trip in Sweden. Vänersborg is a part of the Golf around Lake Vänern card that allows you to golf on the beautiful golf courses around the lake for low green fees. In our area you will find two golf courses that are part of Golf around Lake Vänern; Onsjö golf course and Koberg golf course.
Read more about Lake Vänern and Vänersborg here.
Food, drinks and accommodation
Restaurants and cafés
Taste the local food in Trollhättan and Vänersborg when you visit our area. Here you will find restaurants, cafés and local producers that creates a wonderful food experience for our guests. Taste award-winning food served in a luxurious atmosphere or sit down and relax for a while in one of our popular cafés. There are also several local farms with farm shops so you can bring the taste of Trollhättan and Vänersborg back home.
Read more about food and drink in our area.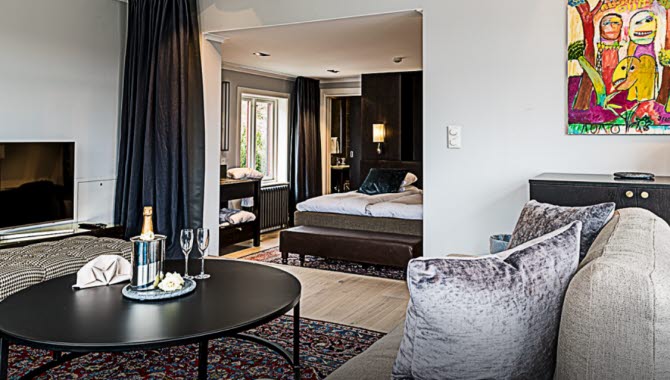 Accommodation
Get a good night's sleep when you visit Trollhättan and Vänersborg. Stay in the city center in one of our hotels or maybe at one of our cozy hostels. If you prefer staying a bit outside the city then maybe a nice cottage or a camping ground? If you visit us by boat then both cities also have guest harbors that are only a short walk away from many popular sights.