Sauna, bathing, beer, bowling, bar, burgers... how great does that sound?! Swim in the sunset on a warm summer evening or take a cold dip in the winter - hang out in the best way possible, all year round.
Are you looking for a chill weekend with family or friends where you can just relax and have a good time? Then you've come to the right place. Here we serve the plan for just that, with both relaxation, food & activity.
Step into the Sauna Raft
The Sauna Raft (Bastuflotten) allows you and your loved ones to enjoy an unbeatable view while you relax in the heat in the sauna and swim right into Lake Vänern. There is a hatch where you can bathe from the inside, and a deck outside where you can jump into the lake. And why not bring a picnic to enjoy at the table in the fresh air? Also, don't forget some cold beers to accompany the meal, or maybe you'd rather sit with a glass of sparkling in your hand? Regardless, your time on the sauna raft will be a highlight!
Raise the energy with bowling and bar
After your visit at the Sauna, it's time to move on! At Winnie Lane Bar n´ Bowling Court you can challenge each other in several different types of entertainment. Maybe some classic bowling, or why not try Hyper bowling to enhance the experience even more? Winnie's also has Shuffleboard, Bankshot and Darts - choose one or several activities! The bar is of course at your disposal in connection with the bowling alley.
If before or after playing you need to fill your stomach with something more, the Winnie's Kitchen n' Comfort restaurant is under the same roof. Their immensely popular Burger is served here, along with several other high-quality dishes that will be the icing on the cake on this day!
Overnight?
Stay overnight at the Strand Hotell or Hotell 46 near the center. Wake up to a good breakfast the next morning and start your day exploring the city center. Take a walk in the beautiful Skräckleparken, stroll among the shops in town and try some of our cozy cafes and eateries.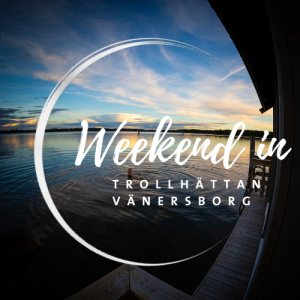 Good to know
Rec. period: All seasons
Good to know: The sauna raft allows a maximum of 8 people.
Get from sauna to bowling:
Car: 5-10 min
Bike: 12 min
Walk: 30-40 min
Bus: From Nya Vägen to Vänersborgs Resecentrum or Hagaparken.