In the Calmest of Waters...
...swim the largest fish. Or was it the ugliest? Whatever is true, both exist in Dalsland. The biggest pike you can imagine and the ugliest prehistoric fish the Fourhorn Sculpin, which incidentally is the province's fish symbol.
A sport fisherman's dream
Few Swedish provinces can offer good sport fishing like Dalsland. One reason is of course the abundance of lakes in our region. So whether you like spin-fishing, fly fishing, action-packed trolling with a guide after salmon and pike or angling – Dalsland has it! Here you will find river fishing, calm ponds, deep fissure valley lakes and not least Lake Vänern's inland lake. The variety and diversity of species are huge. There are around 38 different species just in Lake Vänern.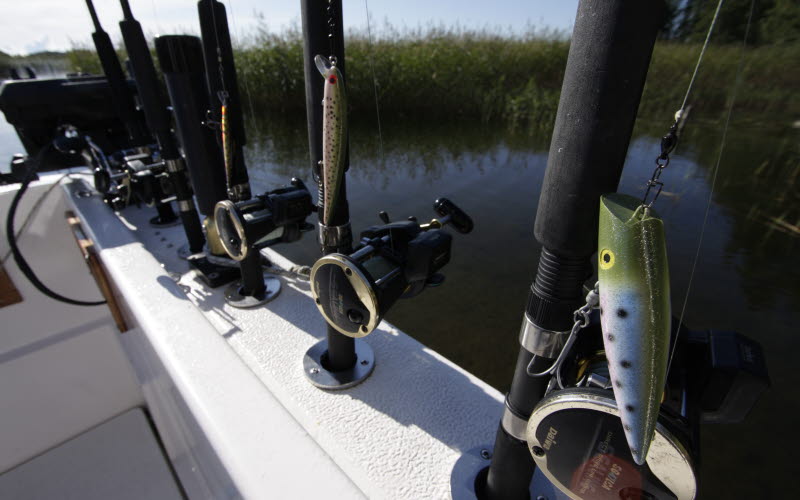 Photo: Trolling. Jan Andersson, Åmåls kommun
Spinning, trolling & fishing
The western region of our province is great for fishing char, with Lilla Le Lake and the three Kornsjö lakes among some of the best. Spinning, trolling and bait fishing are ideal methods for these lakes. In the north and northwest of Dalsland you will find the beautiful, deep fissure valley lakes with their crystal cold water inhabited by full-grown pike. You will also find salmon, trout, char, perch and a few of the whitefish species. The north eastern and eastern regions around Åmål and Mellerud offer enormous fishing possibilities having access to Sweden's largest lake, Lake Vänern. Its coastline has an abundance of various freshwater species, plus the finest trolling in the region with its full-grown salmon and trout.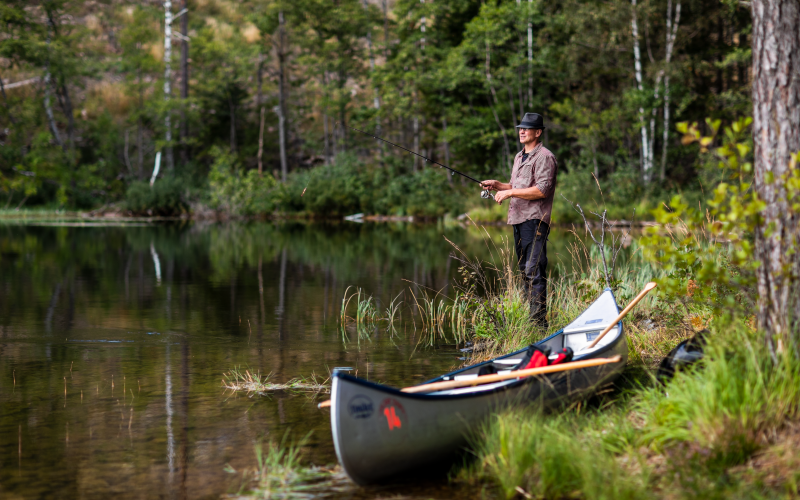 Photo: Henrik Trygg, westsweden.com
Put and take
Ängebytjärnet, 12 kilometers west of Åmål, is a nice and well kept woodland lake where you can catch char and rainbow trout all year round. Several times a year the lake is continually filled with new fish. Shelters and campsites have been conveniently placed around the area.
Ängebytjärn. Photo: Emma Augustsson, Dalslands Turist AB
Southern Dalsland
The waters in Dalsland's southern region are often more nutrient-rich and are prime areas for fishing. The lakes Ellenösjön, Viksjön and Långhalmen are great for catching pikeperch and also excellent for fishing carp, tench, chub, orfe, common rudd and many other species.
Fiskeland.se
Fiskeland.se is a website for fishing enthusiasts! Here you will find fishing rules, fishing areas, fishing card vendors and more!
To Fiskeland.se