Foodsafari in Trollhättan
Do you love food experiences and spending time trying different restaurants and cafes? Then this is perfect for you. The big question is just - how much can you eat?
Can you think of anything better than letting food be the focus - for a whole day? Neither can we. Surf through Trollhättan from restaurant to cafe, from cafe to restaurant. Here is something for those of you who love both food and socializing. Bring your favorite people, let the conversations flow and the food lead the way!
Stop 1: Coffee at Kråkestan's Kakeria 
In the older district of Strömslund on a small cobbled street, you will find the small cozy café Kråkestans Kakeria. A small local converted into a bakery and cafe with an alley that acts as outdoor seating during the summer months. This place quickly fills up with regulars and visitors who have found their way here. Choose between classic pastries mixed with creative pastries - a great start to your day! 
Stop 2: Lunch in the city centre
When the lunch craving creeps closer, it's time to move towards the city centre, John Scotts Butlers. Here you can have a delicious lunch,maybe a classic burger or a good pizza. During summer time their outdoor area is a perfect spot. 
Stop 3: Coffee to go? 
Make your way back to the city center again for a cozy afternoon coffee on Strandgatan. If you have the weather on your side, a coffee to go can be the ultimate plan. Buy it together with something sweet at Strandgatan and then take a lovely walk around Trollhätte Kanal. There are three different distances to walk, so you can choose what suits you best. 
Stop 4: Dinner on the hill
As dinner approaches, it's time to hit the big drum. Up on the hill you will find Albert Kök, Hotel and conference where you can enjoy a well-composed and seasonal menu in a lovely setting. Choose from several different dinner packages and taste our locally brewed beer from Strömmarns brewery or try one of the 500 different kinds of whiskey. Maybe there is a fun event you can match the dinner with? Sit back and enjoy! 
Tip! If you're a group that wants to get even more involved in the food, maybe it's a good idea to book one of their taste battles or drink battles? For more information contact info@alberthotell.com 
Stop 5: Haven't had enough yet?
Then you can move back into town to enjoy some more places. For those who crave a drink, a visit to Majo bar & Restaurant is a perfect end to the evening. If you are more interested in a cold beer and hanging out in a bar, the next stop could be Backstage Rockbar.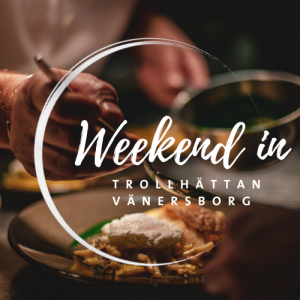 Good to know
Go by bike:
Stop 1 to 2: 10 min
Stop 2 to 3: 5 min
Stop 3 to 4: 10 min 
Stop 4 to 5: 10 min 
Go by car:
Stop 1 to 2: 10 min
Stop 2 to 3: 0 min
Stop 3 to 4: 10 min 
Stop 4 to 5: 10 min
Go by bus:
Stop 1 to 2: Bohusgatan to Drottningtorget 
Stop 2 to 3: ---
Stop 3 to 4: Drottningtorget to Torsbogatan
Stop 4 to 5: Torsbogatan to Drottningtorget