Rydals museum

Rydal
The oldest preserved spinnery in Sweden
You are really taken back in time during your visit to Sweden's oldest preserved spinnery. Since the 1940s, the spinning machines in the machine hall have remained in place, row after row, as if in a dream. Find out all about the history of this factory, watch the large machines in operation and find your favourite among the various exhibitions. Everyone, young or old, finds something fascinating at Rydals Museum.
Interactive exhibition
The permanent exhibition at Rydals tells the story of Markbygden's history in a playful way, with interactive parts. Here you can try on garments from the past, discover objects, learn more about the significance of hydropower for the factory, play games, try weaving, knitting, crocheting and so on. Temporary exhibitions are also arranged.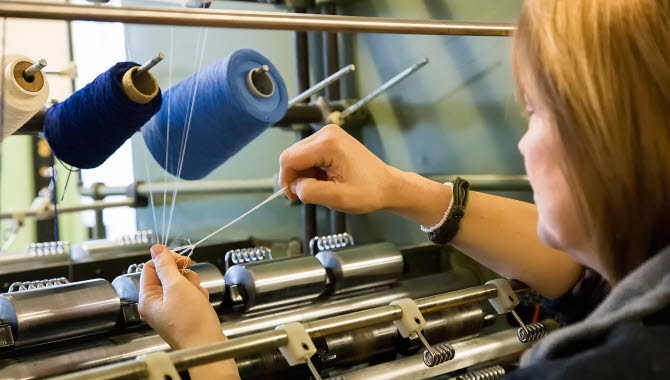 Photographer: Magnus Larsson
Walk in the old works community
There is an almost one kilometre long signposted historical walk around the museum where you can learn about the history of people as well as buildings. At the end of the day you can visit the craft shop, Akleja, which produces unique, quality arts and crafts in the form of textiles, wood and ceramics.
Historic bicycle tour
A cultural-historic cycle trail called Förläggargårdsturen takes you through the beautiful textile district countryside in Sjuhärad. You will cross three rivers on the tour, Viskan, Surtan and Häggån, over beautiful stone arch bridges. If you want to learn more about the district, go on a guided tour in Rydals Museum. Guests can stay overnight at the historic guest house, Lydde Gård.