Smögens Fiske & Skärgårdsturer

Smögen
Lobster and crayfish adventures in Smögen
One of the best things to do in Bohuslän is to go out to sea. Join a lobster adventure at sea with Smögens Fiske & Skärgårdsturer. Try out being a fisherman for a day, pulling up lobster pots and traps. There are also exciting wreck fishing expeditions and archipelago tours.
Catch and eat fantastic Norway lobster
Come to sea with Smögens Fiske & Skärgårdsturer and learn all about fishing for Norway lobster. When the weather and sea is calm you can help to haul up the traps. Spend some time in the fresh sea breeze and learn more about the Norway lobster. When they are freshly caught they are a real delicacy. Of course they are cooked immediately on the boat, and they don't get any fresher than that! So enjoy a taste of the day's catch.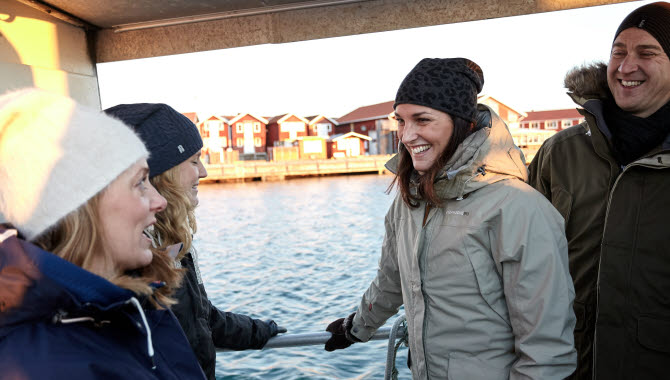 Lobster fisher for a day
Lobster fishing in Bohuslän always starts on the first Monday after 20 September. The fishing boats have been prepared and are in the harbour, waiting to go to sea. Join LL 44 Marie and experience this typical Bohuslän tradition - try out being a lobster fisher for a day. The waters around Smögen are full of lobster, so you can count on a good catch.
A three-hour family fishing trip
Go on a fishing trip to suit the whole family, with something for all ages. The first activity is mackerel fishing in an area about 15 minutes west of Smögen. On your way back you'll check some crab pots while keeping an eye out for seals. All the equipment you need can be rented in the fishing shed, including life jackets. It's a good idea to take a small picnic basket.
Archipelago tours
If fishing is not your thing, go on an archipelago tour instead and admire the beautiful red Bohuslän granite.