Here in Sweden you have the freedom to roam nature. And, like the most important things in life, it is for free. Just respect the flora and fauna and leave it untouched – so that future generations can enjoy the same right as you have. It's a sweet deal – given all the natural attractions you can enjoy in West Sweden.
Ask a Swede how they spent their weekend or summer holidays and more than likely will tell you they were at their lantställe, or summerhouse in the countryside. More than half of the population owns or has access to a place in the countryside, or on the coast, where they spend their time doing a whole load of nothing: relaxing with family and friends, fishing, foraging for berries and mushrooms, swimming, boating, having picnics and generally enjoying what nature has to offer. Perhaps this is why so many of us have a deep affinity and love of the countryside and nature.
So can you.


Roam free in West Sweden
There are many, many wonderful ways you can claim your right to roam free in West Sweden. You can go island hopping in the Bohuslän archipelago, pitch your tent on a deserted island and, just for a short while, it is all yours. Or you can experience the coast and islands on a self-guided or guided kayaking trip in the sheltered waters.
You can also roam below the waterline off the coast by trying out some wreck diving, or diving for seaweed, or exploring the waters of the unique and beautiful Kosterhavet Marine National Park. The small towns of Grebbestad and Lysekil on the Bohuslän coast have diving centres and you can also arrange and join kayaking trips from both of them. As a bonus, Grebbestad is the oyster capital of Sweden and Lysekil is famous for its mussels. You can even pick your own and devour them while you are here.
Back on dry land there are hiking trails and cycling trails aplenty offering the scenic and beautiful Västergötland and Dalsland regions. And in and around Gothenburg you can enjoy wild swimmingin coves, bays, in the sea and in lakes.
Come and claim your freedom to roam in West Sweden.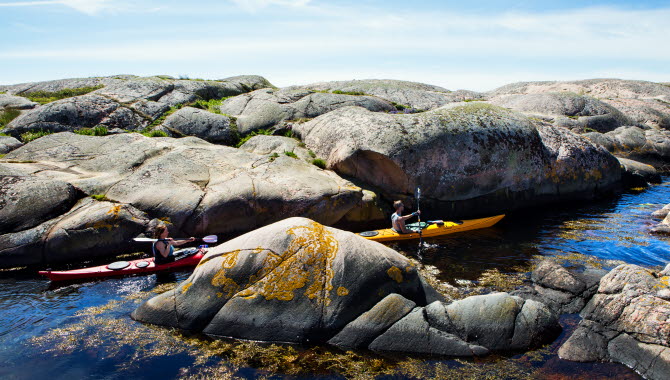 Photographer: Roger Borgelid
Useful links:
All of West Sweden's natural attractions: http://www.vastsverige.com/en/articles/natural-attractions-in-west-sweden/
The right to roam in Sweden: https://visitsweden.com/about-the-right-of-public-access/
Sweden on Airbnb: https://sweden.withairbnb.com/