Billingen recreation area

Skövde
Training and enjoying the great outdoors
Get your exercise in one of West Sweden's most complete sports and recreation areas, which is also an official Vasaloppet centre for cycling, running and skiing. Billingen recreation area covers all your training needs for the different parts of this classic Swedish competition. On your own, in a group or on one of the training camps, which are always on the go here.
Experiences all year round
In the winter you can train cross-country skiing on the 10 km prepared tracks with artificial snow. You can also use the slalom pistes, sledge hills or ice rink. During the summer you can do your swim training in the outdoor pool or go mountain biking. Or simply go for a walk or run on one of the many running paths and trails.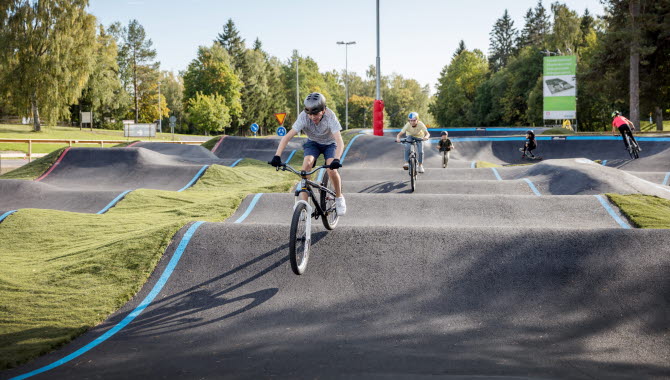 Photographer: Tobias Andersson
Alternatively, you can find peace and quiet walking in the forests and countryside, gathering berries or mushrooms as you go. Some of the hiking paths offer great view points over the city Skövde, which lies just beneath the mountain Billingen. Walking the 65 km long Billingeleden around the entire mountain you are guaranteed grand nature experiences. Another lovely track is the shorter Trollstigen – perfect for a day trip.
The high-altitude track Upzone at Billingen
Yippee Kiay! This is how it can sound when you swing out in a zipline on Billingen Skövde's new high-altitude course that opened in March 2021. In the middle of the forest between the stadium and Hållsdammen you will find this adventure where you can climb from platform to platform in about 2.5 hours. up in the treetops. Read more about Upzone at Billingen HERE!
All of these pleasures await you, just a few minutes by car from central Skövde, with plenty of hotels, hostels and cottages in the area.