Gothenburg Concert Hall

Gothenburg
A building with its heart in music
Gothenburg Concert Hall is a place for everyone to share music. The large hall is famous for its outstanding acoustics, while the smaller Stenhammar Chamber has a more intimate atmosphere. Enjoy delightful music here throughout the year.
Music and art treasures
A large number of world famous musicians, orchestras and conductors have shared their love of music in the Concert Hall over the years. But the treasures on offer here are not limited to music but to a variety of other genres. You'll find Otte Sköld's mural "Folkvisan" and Sweden's largest tapestry, "Melodier vid torget" on the walls in the Götaplats foyer. Nils Wedel's painting "Musikanter" is hanging outside the entrance to the Stenhammar Chamber.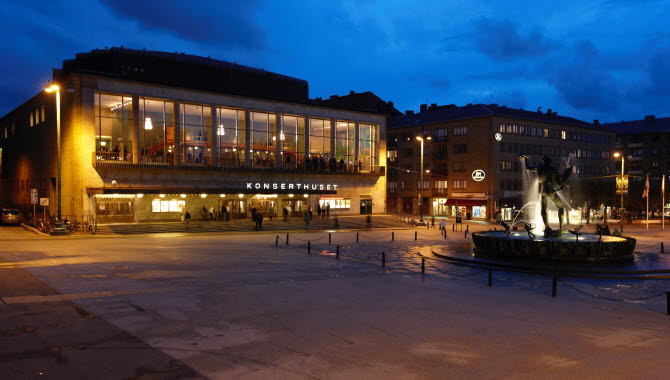 Photographer: Sofia Paunovic
Food composed for all your senses
In the Concert Hall's restaurant, cafés and bars you can find all manner of good refreshments, from organic coffee and cakes to organic wines among other delicacies. The chef welcomes you to the restaurant with a seasonal à la carte menu and a first-class wine list. The restaurant serves Swedish, fresh local produce as much as possible and the menu changes roughly every 6 weeks.
Guided tour
Gothenburg Concert Hall is so much more than just its beautiful concert chambers. Join a guided tour and see what really goes on behind the scenes. The tour takes you out of the public areas and you can see the magnificent organ, the huge instrument store and the sheet music library.