Sjöfartsmuseet Akvariet

Gothenburg
Explore life under, on and above the water's surface
The Maritime Museum and Aquarium, beautifully situated by Stigbergstorget in Gothenburg, encourages you to explore life under, on and above the water's surface. It has something for all ages on three floors packed with West Sweden's maritime history, port culture and living marine environments.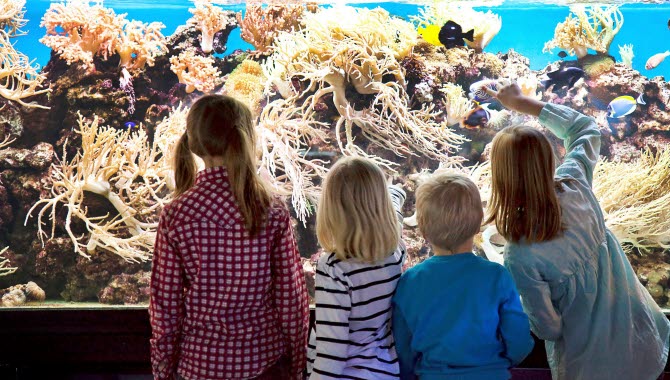 Photographer: Olle Andersson
Maritime history
There are several exhibitions at the popular Maritime Museum and Aquarium which explore the relationship between people and the sea. The emphasis is on maritime history, with many model ships and drawings. You can learn more about the marine environment, understand the toxicity of the dragon fish and why clown fish change their sex.
Try out being a captain
Would you dare to steer a large ship into a port? Try out the Maritime Museum's popular ship simulator, where you can take on the role of a captain and choose among different ship types and weather conditions. Knattegatt is a playroom for the youngest visitors where you can say hi to the sea monster and creep into a shipwreck.
More than just exhibitions
The Maritime Museum also arranges a number of different activities such as lectures, children's activities, city walks and boat trips. The café by the entrance has home-made delicacies, sandwiches and light dishes. In the charming museum shop you'll find quality items related to shipping and the oceans, many of them climate-smart.