Recipe – here's how to bake genuine Swedish buns
Swedish Fika has become an international concept, and actually this Swedish tradition is believed to have started here in West Sweden. Now you can also invite people to a traditional Swedish fika by using the Hvita Hjorten's fantastic Cardamom Bun recipe. Good luck!
Swedish Cardamom Buns
Step 1 – make the dough
Ingredients in the dough:
6 decilitres (dl) milk
225g butter at room temperature
50g fresh yeast
2.25 dl granulated sugar
2 tbspn of freshly ground green cardamom seeds
2 tspn ground cardamom
2 tspn salt
15–17 dl strong white flour
2 eggs
Do as follows:
Warm the milk to 37˚C with the cardamom.
Add the yeast and the other ingredients
Knead to a smooth, slightly wet dough
Let the dough double in size, covered with a damp cloth

Step 2 – shape the buns
Ingredients in the filling:
300g butter at room temperature
1 tbspn ground cinnamon
1.5 dl caster sugar
1 tbspn vanilla sugar
1 tbspn ground cardamom
Do as follows:
Mix together the filling ingredients
Roll out the dough onto a lightly floured board
Spread the filling on the dough
Form into your choice of bun shape (eg spirals or knots)
Let the buns rise about 45 minutes under a damp cloth
Photographer: Jesper Anhede
Step 3 – baking
Ingredients for the glaze:
Do as follow:
Preheat the oven to 210˚C
Mix the egg and the milk for the glaze
Brush the buns with the glaze
Bake for around 5 minutes at 210˚C then sink the temperature to 200˚C and bake for a further 3 minutes or until the buns are golden brown.
Step 4 – decoration
Ingredients for the decoration:
1 dl water
2 tbspn syrup
1 tbspn honey
2 tbspn brown butter
1 dl granulated sugar
2 tspn ground cardamom
Do as follows:
Mix the water, syrup, honey and brown butter
Brush the mixture on the warm freshly baked buns
Mix the sugar and ground cardamom
Sprinkle the mixture over the buns
Delicious served with a glass of milk or a cup of freshly brewed coffee!
Hvita Hjorten – A restaurant that relies on local ingredients
Right next to Läckö Castle lies the Hvita Hjorten (which means The White Hart) restaurant. As early as the second half of the 1600s Count Magnus de la Gardie had permitted the building of an inn here, and the name Hvita Hjorten is thought to originate from one of the Count's boats. Today two head chefs, Katrin Ljungblom and Stefan Söderholm, work with gardeners from Läckö Castle's Little Castle Garden, which means that the restaurant gets freshly grown, top quality produce delivered the day it is picked. Ingredients are also sourced from professional Lake Vänern fishermen as well as local farmers and hunters. It couldn't be any more sustainable.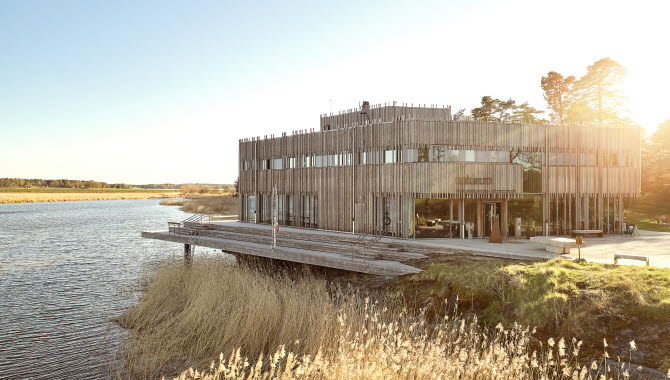 Photographer: Jonas Ingman