Pevon Ecoturism

Gothenburg
Hiking packages with overnight accommodation in trees or cottages
Book a hiking package with Pevon Ecoturism and experience the wild places at Björsjöås Vildmark, just outside Gothenburg. Stay in tree tents or camping cottages and enjoy the pure forest air, its special fragrance and the silence.
Hiking trails through a beautiful nature reserve
Pevon Ecoturism arranges hiking packages where you only need to take your own walking gear and a packed lunch for the first day – all the rest will be taken care of. With a light backpack you can breathe in the forest air, smell the fragrances and enjoy the peace and quiet in the beautiful wilderness in Vättlefjäll underneath the open sky. You can start walking on any of these three trails: Jennylund in Bohus, Dammekärr in Nödinge or Vättlefjällsstugan in Rannebergen. Check out Vättlefjäll's hiking trails here.
A 2-day hiking package includes:
Overnight stay in a tree tent or a cottage
- Three-course dinner
- Sleeping bag, pillow and sleeping mat in the tree tent, or bed linen in the cottage
- Large gel/heating pad, activated by pressing a button
- Warm blankets for chilly evenings around the fire
- Fire pit, wood, first-aid kit, matches, camping stove, rain ponchos and head torches
- Towels and access to shower and toilet at Björsjöås Vildmark
- Breakfast
- Packed lunch for day 2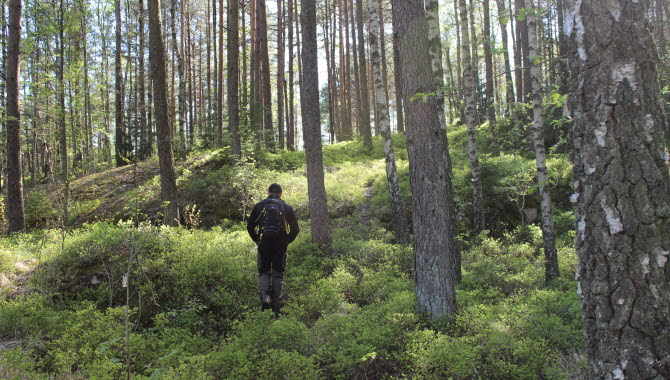 Photographer: Yvonne Carlsson
Pevon Ecoturism provides you with a map of the area and information about the length, degree of difficulty and accessibility of the trails. You mainly walk along the Vättlefjällsleden through the beautiful natiure reserve of Vättlefjäll. You can also book guided walks and active cooking on an open fire, with step-by-step recipes.
Food and accommodation under the open sky
After your first day's walk to the historic farm of Björsjöås Vildmark you are provided with a well-deserved "fika"- coffee and cakes.  There is time to explore the surrounding countryside, so walk down to the lake, rent a canoe or pick some mushrooms, red whortleberries or blueberries. When you get to the really hungry stage there is a 3-course dinner to be savoured - just heat the food over an open fire.
Photographer: Jesper Anhede
And now for the accommodation you have chosen: either a tree tent or cottage. A tree tent is a unique, comfortable way to get really close to nature without sleeping on uneven or damp ground. The camping cottages have four beds and are equipped with a fridge, coffee maker, hob, kettle and kitchen utensils for four people. Book online or send an e-mail to Pevon Ecoturism.
Directions to Pevon Ecoturism
Pevon Ecoturism is next to the Björsjöås Vildmark farm, which is about 5 kilometres inside the Vättlefjäll nature reserve and only 30 minutes from Gothenburg city centre. You can get here by car, by bus or on foot. Find out more here!