Stay in a glass cabin at Happy Celery Glass Cabins
Welcome to the glass cabins at Happy Celery Glass Cabins, situated between Bengtsfors and Åmål in West Sweden. The cabins are in a beautiful location, nestled in a mossy forest next to a pretty lake.
Everything happens at nature's pace
In the middle of Dalsland's extensive woodlands in West Sweden lie the Happy Celery Glass Cabins – where the peace and tranquillity of the forest and lake reigns. There are two glass cabins here which are both bookable for 72 hours, in other words, three days. The Amethyst glass cabin is in a wooded area surrounded by spruces, rocks and green moss. The Rose Quartz glass cabin is in a more open spot right next to Lake Krokvattnet. Both cabins are a stone's throw away from the Happy Celery Cafe.
At Happy Celery Glass Cabins everything happens at nature's pace. Spend the days walking and "forest bathing" in the ancient woodland, row out onto the lake and take a dip in the clear waters, or just breathe in the fresh air as you stand at the door of your glass cabin. Your stress levels will reduce by being surrounded by greenery, and if you really want to get the most out of the utter peace there you can leave your mobiles, laptops or tablets at the information centre by the cafe.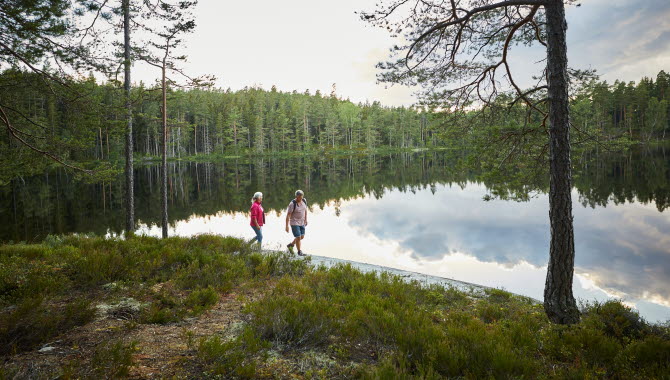 Photographer: Jonas Ingman
Breakfast and lunch are served to your door and in the evening you can walk to the Happy Celery Cafe for a three course dinner. Everything is made from scratch with natural, and as far as possible, organic ingredients. Everything on the menu is plant based and free from gluten, lactose and sugar.
Practical information and prices
When you arrive at the information centre by the Happy Celery Cafe you'll be welcomed by Cecilia and/or Jacob. Lunch will be served and then you'll be shown the glass cabin you are staying in, around 100–300 metres from the cafe.
The basic package includes:
72 hour stay for two people in one of the glass cabins
Welcome information
160 cm bed with quilt and pillows including bedding
Extra blankets
Water bottles
Thermoses with coffee or tea
Towels
Soap and shampoo
Mosquito net
Torch
Candles and lanterns
Access to a rowing boat by lake Krokvattnet
Outside toilet by the cabin
Map with suggestions for walks
A small and diverse selection of books
The following meals are included:
Lunch and dinner on arrival day
Three meals a day for two days
Breakfast on departure day
Fresh fruit every day
Price:
Basic package (72 hours) costs 9 300 SEK/glass cabin.
Extras:
Wood fired sauna (350 SEK/couple)
Guided meditation (150 SEK/person)
Massage (650 SEK/hour)
Lifestyle coaching/co-counselling (850 SEK/hour)
Lunch or dinner on a floating raft (500 SEK/occasion)
Photographer: Jonas Ingman
Why glass cabins?
The glass cabins were designed by Jeanna Berger, daughter of the owners of Henriksholm, Staffan and Maria Berger. The aim is to bring the visitor closer to nature, and the design idiom is 'pared back' and functional. All the materials are sourced from local suppliers. Read more about Jeanna's thoughts behind the glass cabins.
Finding your way to the glass cabins
The glass cabins are located in Dalsland, in western Sweden. Here you can find information about the easiest way to get there.
Different locations – different experiences
The glass cabins are in slightly different locations in Dalsland, resulting in a range of experiences depending on where you choose. You can read about the different cabins here.