Romantic day trip to Styrsö
Leave the bustle of the city behind you on a boat trip that takes less than an hour. On the car-free island of Styrsö you can walk, eat well and enjoy the hospitality of Ola and Ylva Tulldahl at Pensionat Styrsö Skäret.
Remember that the choice of activities, and opening times of restaurants, shops and hotels vary over the year. Check the companies' own websites for current information.
Travel from central Gothenburg or from Saltholmen
Take the 281 ferry service or 282 from Stenpiren to Styrsö Bratten, on the east side of the island. If you have a taste for fish after your boat trip you could drop into Café Öbergska. Enjoy a coffee on the terrace and take the opportunity to check out the herb garden. The upper floor is often used as a gallery and for live music performances.
Car free island
Refreshed and content, you should now be ready for an invigorating walk. Bikes, flatbed mopeds and golf carts are the usual means of transport on the island, but walking is fun too. The distances are short and the houses are charmingly rustic. Start by walking to the top of Stora Rös – the highest point on Styrsö. From here you can gaze out over the entire archipelago, the entrance to Gothenburg harbour and see halfway to Denmark. From Stora Rös you can then choose between several fine walking trails through beautiful broadleaf forest. One road leads to Tången, the northern ferry landing on the island. Tången is an old fishing community where the white timber houses huddle together along narrow lanes. From Tången you can walk to the westernmost point on Styrsö, Salskärs Udde, a dramatic place to visit on stormy autumn days, and a wonderful spot to sunbathe or swim from the smooth rocky shore on warmer days.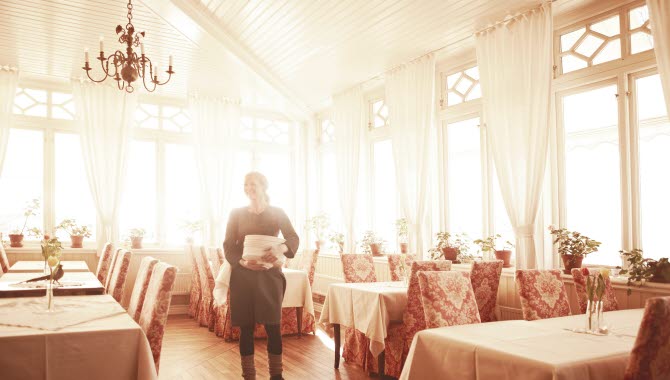 Photographer: Emil Fagander, goteborg.com

Alternatively you can choose a route that takes you directly south towards Brännholmsviken, where the forest meets the sea and a sandy beach. If you head round the southern end of the island you soon reach Styrsö Skäret, the third ferry landing on the island, close to the handsome Pensionat Styrsö Skäret guest house. The yellow timber building is surrounded by gardens and has views out to sea. As well as getting a table with a view you can be certain there will be freshly caught local fish on the menu. The rooms are furnished in old-fashioned style and the entire house echoes with the history of the archipelago. This is a great opportunity to eat at the charming restaurant and stay a night.
Find your island-hops
Bohuslän's archipelago is something special. To help you get a really genuine archipelago experience we've put together both ferry companies and route suggestions that will make your island hops happen.