Lisebergsbyn camping

Gothenburg
Family camping close to the countryside and entertainment
Liseberg Amusement Park and the centre of Gothenburg are only ten minutes from Lisebergsbyn camping, but the countryside is still on your doorstep. You can stay at this super-modern campsite all year round in a cabin, hostel, caravan, motorhome or tent.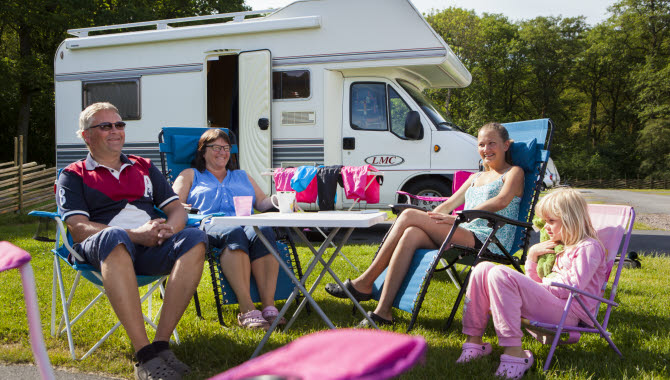 Photographer: Stefan Karlberg
Close to the woods…
If you want to stay in the countryside but still be really close to a big city, then Lisebergbyn campsite is the place for you! You'll find it just south of Skatås outdoor training area in the eastern part of Gothenburg. Skatås has a gym as well as many fine hiking trails. Lake Delsjön is 1.5 kilometres from the campsite - a lovely forest lake with a child-friendly beach, pier, playground and ice-cream for sale. Härlanda Tjärn nearby is also good for swimming. You can see from all the environmental work that ecology is a priority at the campsite.
…and carousels
It takes less than ten minutes by tram to get from the campsite to the largest amusement park in Scandinavia - Liseberg. It really caters for all ages: from Kaninlandet (rabbit land) and Barnens Paradis (children's paradise) for the youngest ones to wild adrenaline rides in Helix and Valkyria. Liseberg Amusement Park is open for three seasons: summer, Halloween and Christmas. Rondo show venue and the Liseberg Theatre also provide entertainment all year round. Right next to Liseberg Amusement Park is Universeum, Sweden's biggest science centre with a focus on animals, nature and technical experiments.
Photographer: Stefan Karlberg
A few more minutes on the tram and you are in the centre of Gothenburg where you'll find a huge range of restaurants and cafés, several museums, great shopping streets and more. The beautiful Gothenburg archipelago is not far away either and is well worth exploring.
Large campsite with very good services
There are about 200 pitches for caravans and tents at Lisebergsbyn camping as well as several attractive holiday villages and two hostels. If you feel like a touch of luxury you can book a breakfast buffet, but you're welcome to cook your own meals in the modern service house. The Lisebusbyn playground is in the centre of the campsite and is open for all those energetic children!
Lisebergsbyn is a dog-friendly accommodation - see the website for more info.
Lisebergsbyn can also be booked for conferences, whether small or large - all groups are welcome. There is plenty of accommodation for this purpose and after an all-day meeting people tend to appreciate the countryside.
Tip
If you want to stay closer to the sea check out Liseberg camping Askim Strand, which is open during the summer season.