The Edible Country - Gunnebo House
When you book the table at Gunnebo House and Gardens you'll get to enjoy delicious ingredients from the kitchen garden, freshly baked bread from the bakery and the odd hand picked herb or two. The table is located by idyllic lake Stensjön and surrounded by resplendent oak trees, in Gunnebo's leafy historic country estate just outside Gothenburg.
Gunnebo's well preserved 18th century manor, the formal gardens, kitchen gardens and grounds is the perfect place for recreation when you want a dose of peaceful natural scenery instead of bustling city life. The House is situated between two lakes, just quarter of an hour from the centre of Gothenburg, and easily reached by public transport. A short walk takes you to the lovely oak grove.


Book the table
The table is bookable on Thursdays from May to September. It can be booked by two parties at the same time, with room for 12 people in total.
Book the table at Gunnebo House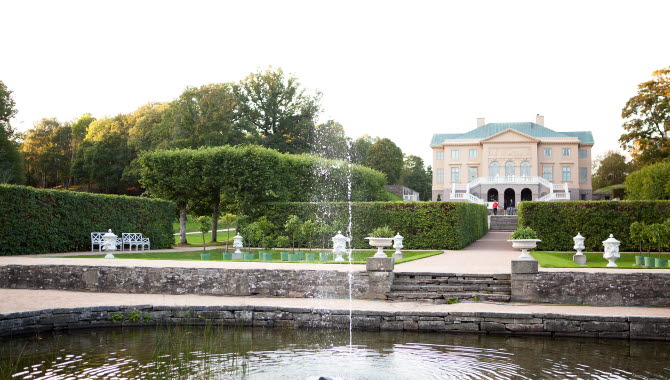 Locally grown from the kitchen garden
Gunnebo House is one of the most popular visitor attractions in the region. Over 200 original drawings and water colours formed the basis for the Gunnebo we see today. The building is widely known for its neoclassical architecture and well maintained gardens. Many come here for the delicious seasonal food as well. Organic vegetables and herbs from the kitchen garden are made use of and served to guests. When you book the table at Gunnebo the menu consists of a filling vegetarian lunch; butter sautéed carrot with chervil, wild herb salad, egg, and hazelnut yoghourt. The ingredient basket will also be packed with bread and cakes from their own bakery, and organic coffee.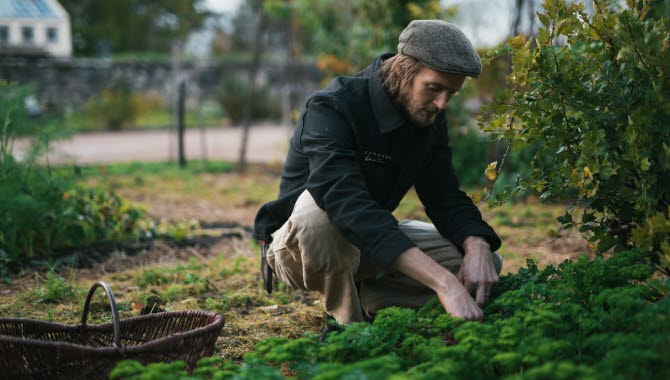 Photographer: Happy Visuals
Lovely area for walks
Around the house both gardens and the natural landscapes are lavishly planted. In the historic grounds covering approximately 100 hectares there are plenty of lovely trails, for both shorter walks and longer hikes. These include a pushchair and wheelchair friendly round walk, among others.
Take the opportunity to go on a guided tour of the house, where our knowledgeable guides will relate fascinating stories about the first owner, John Hall, one of Sweden's richest men, and the other families that lived there. East of the kitchen garden lies Gunnebo Farm, where children can say hi to the horses and have fun in the play area.
Fifteen minutes away Gothenburg awaits, with a huge choice of sights and activities, including Scandinavia's biggest amusement park, Liseberg, Universeum's impressive rain forest and an archipelago on the doorstep with fantastic beaches and paddling waters.
The Edible Country
Cook together with good friends, discover new and exciting ingredients and get close to Swedish nature. There are three tables you can book in West Sweden: one on Ramsvik in Bohuslän, one at Gunnebo House near Gothenburg and one by the Göta canal.