Cycling on Tjörn - family friendly excursions
Cycling around Tjörn is a perfect activity for the whole family. The island has many car-free bike paths that lead to interesting destinations and delightful cafés. The trails are mostly asphalt or fine gravel and bikes are available to hire from several locations.
Tjörn cycling map
Tjörn is an excellent island for cycling and suitable for the whole family, with scenic trails that are never far from the seashore. There is so much to discover, from art, culture and flea markets to great swimming spots, a picturesque landscape and good food. Green trail markers mean the cycling routes are easy to follow and a cycling map is available from the Tjörn tourist office in Skärhamn. The map is also available to download.
Bike rental on Tjörn
If you don't have your own bicycle, you can rent one from the Tjörn tourist office in Skärhamn or from Stenungsund Tourist Information, which is located just before you leave the mainland. Bike rentals are also available on the island from some hotels and campsites, such as Salt & Sill, Hav & Logi and Lekanders Bär & Boende.
Discover Skärhamn and the children's watercolour museum
There is a lot to discover in Tjörn's biggest town, Skärhamn. Leave your bike for a while and pay a visit to The Nordic Watercolour Museum. Famous for their world class art exhibitions and their location right on the water beside Skärhamn's swimming beach, the museum is definitely worth a visit. They have open workshops where young and old can get creative with brushes and watercolour paints. It's very easy for everyone to spend a few hours here. And don't miss the Discovery Bag available in the museum's entrance; Borrow! Play! Return!
Photographer: nordiska akvarellmuseet
On winding roads to Pilane
An 11km bike ride from Skärhamn is Skulptur i Pilane, a sculpture park where you can roam over the fields and discover playful artworks among the sheep. The site was settled as far back as the Stone Age and there are grave sites, standing stones and Iron Age stone settings. Take a picnic with you so you can have lunch looking out over the archipelago from one of the many vantage points at the top of the sculpture park. The cycle route is through picturesque scenery including some meandering forest sections.
From the town square in Skärhamn the route is part cycle path and part country road before coming to a roundabout and the start of the trail that runs on to Pilane. From this roundabout at the edge of the village you can pick up the green way-markers pointing the way to Kyrkesund. At Säbygården you cross fields towards Brok and then cycle west towards Pilane Burial Ground.
Photographer: Roger Borgelid

Flea market finds, crab fishing and something good to eat
Follow the green signs from Skärhamn towards Rönnäng. Along the way you will pass small bays and pastures with grazing horses and sheep. As you reach Aröd and just before the intersection for Rönnäng and Bleket there is an old farm with flea market where you're sure to find all sorts of things.
In Bleket is a good swimming spot with a small sandy beach, rocks and jetty with diving platform. You can also find good organic pastries at Lotta's Bak & Form; stop for a coffee or get something tasty to take away. Or you could try their insanely good sourdough pizza! Right next to Lotta's is Kajaktiv where you can rent a kayak and get a short lesson before you head off.
Photographer: Roger Borgelid
Klädesholmen – a paradise for herring lovers
If you make a detour across the bridge to the herring mecca, Klädesholmen, there is also a good swimming area with floating jetties suitable for crab fishing, a sandy beach, rocks and diving platforms. This is also where you will find the floating hotel Salt & Sill and their restaurant with a menu based on seafood and locally sourced ingredients. Children have their own menu to choose from as well if they wish.
Take the boat onwards for more adventures
South of Bleket, the cycle path via Bleketskolan goes down to Rönnäng where it is just a short trip by ferry to the car-free islands of Dyrön and Åstol. Ferries run all year round and you can park your bike at the ferry terminal before hopping on the boat. You can plan your ferry trip with Västtrafik here.
Photographer: Roger Borgelid
On Dyrön, the hiking trail has stairs, footbridges and railings along cliff edges and ravines, which guarantees a safe and exciting hike around the island. The trail isn't suitable for very young children but the walk of only 1km across the island is something that those a little older could manage. A nice stop on the way is the playground in the middle of the island and, as an incentive, the ice cream café, Lina's Brygge, at the end of the walk makes it all worthwhile. Along the path there are several bathing ladders making it easy to swim and, as a real treat, why not book the whole family for a steam at the island's public sauna! For the little ones there is a perfect sandy beach, rocks and bathing jetty just 300 metres from Norra Hamnen, the northern harbour where the ferry comes in.

From Dyrön the ferry continues on a short crossing to the even smaller island of Åstol. At the harbour is the music and fish restaurant Åstols Rökeri, which has its own smokehouse and shop. In the middle of the island is a small park and playground. On the western side of the island is an exciting swimming area with slide! There is access to a toilet and bathing ladders for access to the water, but for younger visitors there is a safe saltwater pool to swim in.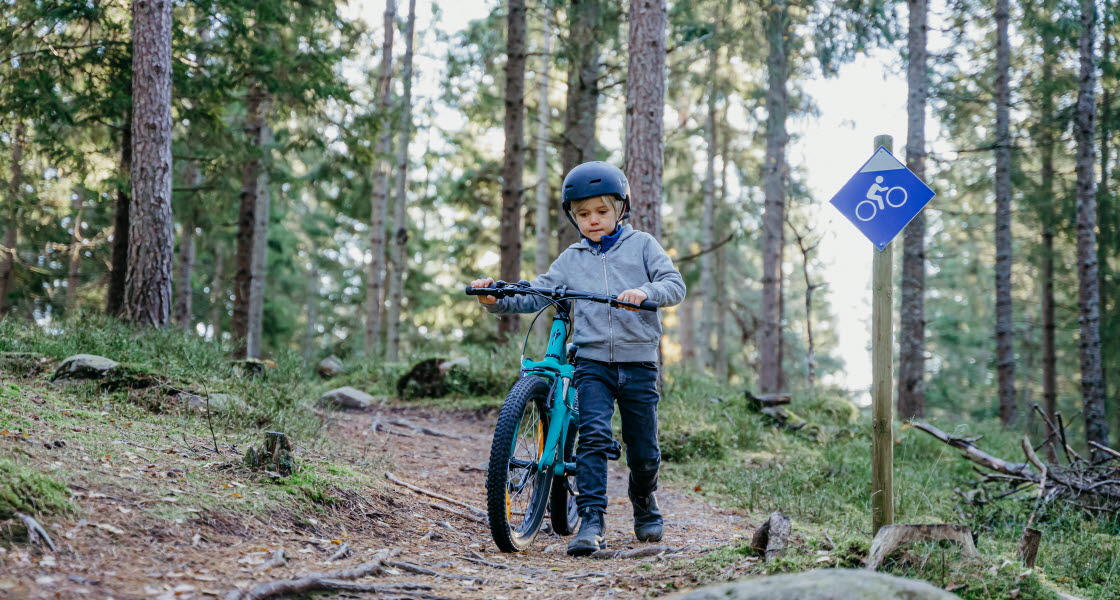 Tips for more cycling adventures
West Sweden is a popular destination for cycling. Discover all the heart racing mountain bike trails, meandering coastal roads and family friendly cycle paths.
Cycling on Tjörn facts
Length: There are several cycle paths to choose from here, suitable for all ages. You could for instance cycle 12 km from the Nordic Watercolour Museum in Skärhamn to Pilane Sculpture Park, or do a longer circular tour around the island approximately 70 km long.
Terrain:  Some cycling will be along busier roads where you will need to be careful, and some along pretty gravel roads and cycle tracks.
Remember: Always wear a cycling helmet, respect the traffic and wear/take clothes suitable for the weather. Pack a water bottle and snacks in case you run out of energy. It's a good idea to bring a repair kit with tools and spare inner tube.