Island-hopping in Bohuslän, a 5-day trip from Marstrand to Uddevalla
Island-hopping in Bohuslän's beautiful archipelago is one unforgettable experience. Below are some tips on pleasant boat trips, interesting sights, enjoyable activities and good places to stay between Marstrand and Uddevalla. Here are our tips on boat trips, must-visit places, activities, and amazing stays from Marstrand to Uddevalla. Choose just the boat trip or bring a bike and try some of the bike trails along the way.
Day 1 – Sunday, Marstrand
Catch a local train from Gothenburg and connecting bus from Ytterby all the way to Marstrand. Check into one of the many nice places to stay on Marstrand and enjoy the pleasant walking trails on Marstrand itself and the neighbouring island of Koön.
Magnificent views are on offer when you pedal along the 15-kilometre car-free cycleway between Marstrand and Nordön and back. Don't forget to visit Strandverket Art Hall and Carlstens Fort. Round off the evening with a delicious meal at one of Marstrand's pubs and restaurants.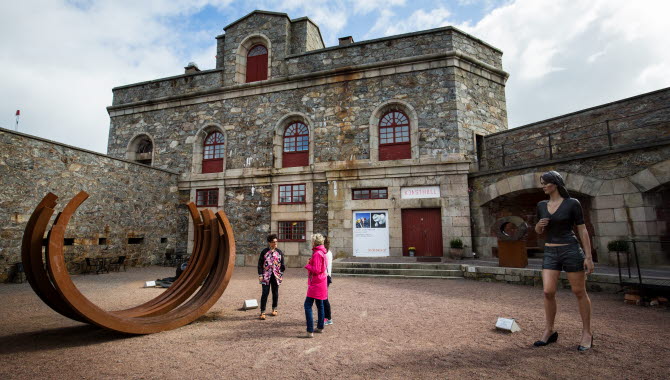 Photographer: Roger Borgelid
Day 2 – Monday, boat to Rönnäng/Klädesholmen
Each Friday-Tuesday from July 10 until August 4, M/S Drott af Dyrön departs Marstrand at 11:00 for an enjoyable 40-minute trip to the island of Tjörn. The first stop is Rönnäng. Passengers can either disembark here or continue to the next stop at neighbouring Klädesholmen. Bicycles can be taken on board at a cost of 100 SEK. Book your bicycle space at Gunnars Båtturer. Alternatively, hire a bike at the tourist information in Skärhamn, or why not book a Cycling Package with the floating hotel Salt & Sill, which includes a rental bike.
Tjörn has plenty of attractive and varied cycleways, offering pleasant and interesting journeys. Be amazed by the beautiful natural landscape and add world-class art experiences to your trip by visiting the Nordic Water Colour Museum in Skärhamn or Sculpture at Pilane.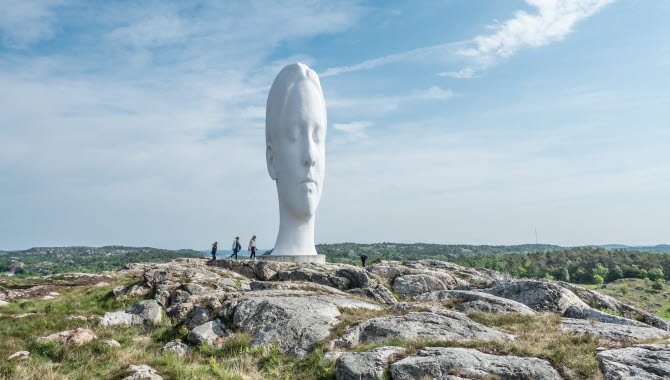 Photographer: Anders Jonsson, Södra Bohuslän Turism
Day 3 - Tuesday, walk and cycle on Tjörn
Tjörn also offers plenty of good walking trails. Bring a picnic or enjoy a nice meal at one of the coffee shops and restaurants along the way!
Härön – Follow the signposted cycle paths to Kyrkesund, where you leave your bike and hop on the boat that takes passengers across to the Härön Nature Reserve, every day all year round. The walking trails on Härön are between 2 and 10 kilometres long and take between 30 minutes and 4 hours to complete.
Dyrön – Park your bike at Rönnäng or bring it on board on the boat to Dyrön. The many steps, gangways, handrails, tables and seats along mountain sides and gorges guarantee an exciting walk around Dyrön. There are places to swim along the trail, which is 5 kilometres long and takes around 2 hours to complete.
More ideas for cycling and walking tours on Tjörn are available here.
Photographer: Roger Borgelid
Day 4 - Wednesday, boat to Mollösund and Käringön
On Wednesdays and Thursday between the 12th July and the 3th August, M/S Drott af Dyrön takes passengers from Tjörn to Orust. The vessel leaves the first, Mossholmen/Klädesholmen, at 10:40 am. The next stop is Skärhamn. Tickets must be pre-booked no later than the day before by phoning +46 706 775 855, or by emailing info@gunnarsbatturer.com.
The first stop on Orust is Mollösund, located on the western side of the island. This is a village with narrow lanes and lots of small picturesque houses and boathouses. If you disembark here, you can cycle across to Slussen and Stillingsön on the eastern side of the island, a pleasant trip of around 45 kilometres. The route is lined with small fishing villages that offer nice places to stay and good food.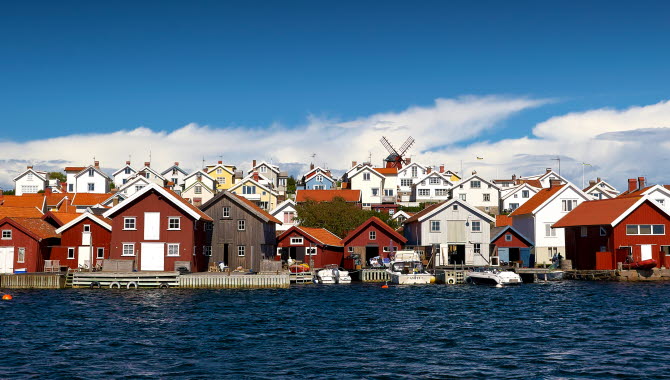 Photographer: Jonas Ingman - M2B AB
If you prefer to remain on board for the whole trip, the boat arrives at Käringön at 13.30. This little island offers amazing nature experiences, attractive buildings, and genuine peace and quiet. Cycling is not allowed here, and the island is both car and moped-free. Explore your surroundings by walking among the houses on the northern side of the island and the barren rocks in the south. Tips on where to stay, eat and do at Käringön you´ll find here.
Day 5 - Thursday, boat to Slussen/Ljungskile or Uddevalla via Bassholmen and Henån
Every day during the afternoon, between the 26th June and the 13th August, the passenger vessel M/S Gustafsberg II departs Stillingsön and Slussen on the eastern side of Orust for Lyckorna and Ljungskile, travelling through the lovely inner archipelago. Departure times are daily, late mornings. Enjoy buildings in traditional Swedish west-coast style, good shopping and delicious mussels from Janne at Musselbaren, before spending the night in historic surroundings at Villa Sjötorp in Lyckorna. More information and the M / S Gustafsberg II timetable can be found here.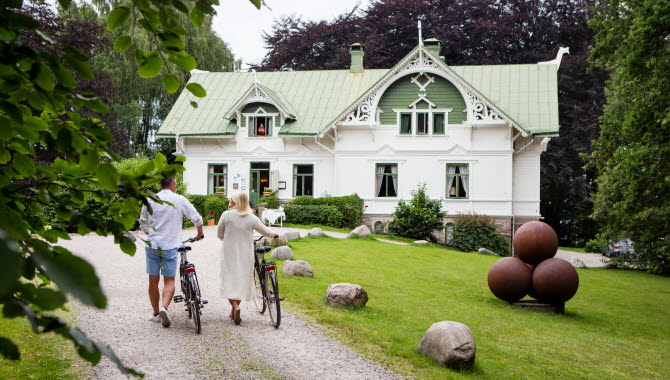 Photographer: Roger Borgelid
… alternatively, travel by boat from Käringön to Uddevalla via Bassholmen and Henån.
Thursdays during June, July and August, M/S Byfjorden departs Käringön for Uddevalla, travelling through the beautiful archipelago. Book your ticket at www.skargardsbatarna.com or on +46 522 698 480. Spend the night in Uddevalla and explore this small, friendly town, where visitor attractions include Sweden's oldest spa resort,Gustafsberg, the Beach Promenade and the Bohuslän Museum.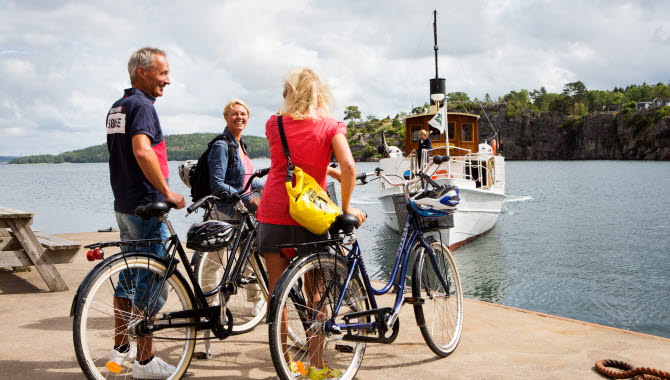 Photographer: Roger Borgelid
Printable map -Marstrand/Tjörn >>
Printable map - Orust/Tjörn >>