Information regarding your table booking at Gunnebo House
The Edible Country is no ordinary dining experience. Here's some information to give you an idea of what to expect when you arrive at the table at Gunnebo House outside Gothenburg.
What's included in the booking?
A booking includes seats at the table which has been placed in an oak grove right in the heart of the cultural reserve of Gunnebo. For 150 SEK /person you'll get basic ingredients and loan of equipment, including the following:
A basket with ingredients (Swedish, vegetarian summer food consisting of butter sautéed carrot with chervil, wild herb salad, egg, and hazelnut yoghourt, with Swedish fika and coffee.
All the equipment you'll need to make the food yourselves and eat it.
A welcome brochure with a recipe created by Gunnebo's head chef Hannes Högberg, and information about how to find the table. You'll also find tips about what to forage locally, to add a little something extra to the food (like herbs or berries, if they are in season).
The cooking kit is collected and paid for on arrival at Gunnebo Coffee House and Restaurant. More info below.
Remember to dress appropriately for the weather.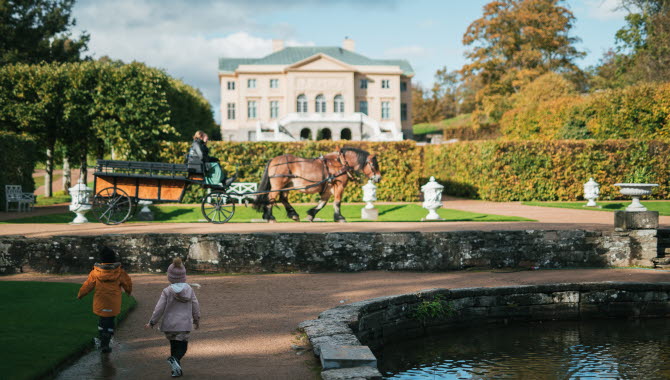 Photographer: Studiografen
Recommendations
If you want to make your stay extra special we recommend the following:
Guided tour of the House – Gunnebo House and Gardens was built as a country residence for the prosperous merchant John Hall and his family. The neoclassical house stands on a hill, with a view of the surrounding countryside. Let our guides entertain you with the fascinating history of the Hall family's rise and fall. Guided tours in Swedish and English take place daily from 23 June – 31 August.
Canoing, mini golf and swimming – Lake Stensjö offers lovely canoeing and refreshing dips. Hire a canoe and finish off with a round of mini golf and a dip in the lake. Stensjö Center (NB! Pre-booking is recommended)
Walk the Bohusleden Trail – Gunnebo's historic estate is surrounded by very beautiful countryside. Take the opportunity to extend your day by walking part of the Bohusleden Trail, stage 1 Blåvättnerna-Stensjön or stage 2 Stensjön-Skatås. www.bohusleden.se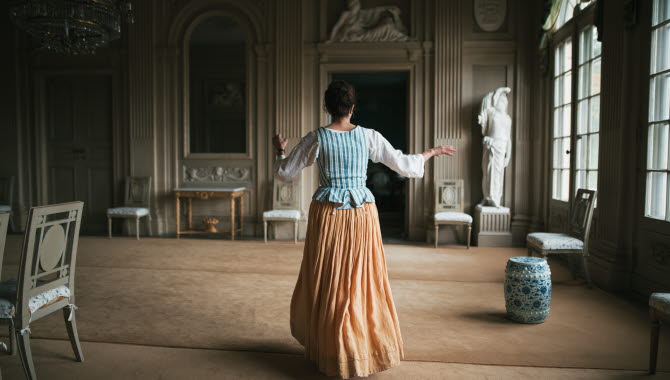 Photographer: Happy Visuals
How do we get there?
It's easy to get to Gunnebo House and Gardens on public transport or by bike, but it is of course also easily reached by car. Here's more information and directions.
What happens when you get to Gunnebo?
Collection of the ingredient basket and cooking equipment, as well as paying, is done at Gunnebo Coffee House and Restaurant. It is the yellow lower wooden building, with an outdoor serving area ringed by a white fence. Follow the building's short side around 10 metres to the Old Kitchen Garden. You'll see a green sign there for "The Edible Country". The door is usually open, if not, knock and one of the kitchen staff will help you!
Gunnebo's table is about a 15 minute walk from the House in the park grounds, on Hökullen, by Lake Stensjö. When you collect your cooking kit you'll get a map with a description of how to find the table. One suggestion is to have a short walk to get a feel for the lovely surroundings. There are several pretty paths which lead you to the table. Make the food yourselves using the accompanying recipe and eat whenever it suits you. The rest of the time can be spent sunbathing, swimming, and just enjoying finding yourselves in the beautiful rural settings of the estate. The cooking kit should be returned to the same place you collected it no later than 18.00. Make sure you don't leave any litter behind.
Photographer: Jonas Ingman
Important information
The booking is valid 12.00 -18.00 only. Return the hired cooking kit to Gunnebo Coffee House and Restaurant no later than 18.00.
Please note that the table can be booked by two parties at the same time, which means that you might not be alone there. But the table is big so there is enough room for everyone!
Any cancellations must be made no later than 48 hours before arrival. Please also note that Gunnebo has the right to cancel your reservation when there is a risk of extreme weather or danger of fire.
If you have any questions about your booking contact Gunnebo House and Gardens kontakt@gunneboslott.se or +46 (0)31-334 16 00
Enjoy your close to nature food experience in Sweden – The Edible Country!
We wish you a warm welcome!
Gunnebo House and Gardens, in collaboration with the West Sweden Tourist Board and Visit Sweden
The Edible Country
Cook together with good friends, discover new and exciting ingredients and get close to Swedish nature. There are three tables you can book in West Sweden: one on Ramsvik in Bohuslän, one at Gunnebo House near Gothenburg and one by the Göta canal.